Oh 2018, how you have been our favorite year yet!  To tell you the truth, when my husband, Raun and I started Modern Plumbing and Heating here in the Flathead Valley, we hoped and dreamed for greatness, but who doesn't? Nobody starts a business and strives for it to be subpar and says, "eh, let's just just see how it goes," says no one ever.  Our very goal was to grow our business around what we believe is the single most important rule that we believe everyone should strive to live by; treat others like you would like to be treated.
Unfortunately, in most industries, especially in industries like plumbing, it takes only one bad apple to give them all a bad rap.  The elderly and women in particular get hit the hardest in the construction industry.  In only two and a half years in business, we can't even count on our hands the amount of customers who have called frantically for second quotes because the quotes they received were astronomical.  The worst yet was an elderly woman that called at the peak of the coldest time of year, sobbing because her heating system wasn't working and the previous company had told her that she would need to have her whole heating system replaced and it was going to cost her 24k!  We went out and fixed the issue for one hour of our time, $95.  Yes, ninety-five dollars.  That is not a typo.
If you don't know this already, when it comes to plumbing, service plumbing is some of the hardest and dirtiest work around, but Raun, Master Plumber and Owner of Modern Plumbing and Heating prefers it because he gets a great sense of fulfillment out of helping others.
From the first day in business and every day there after, we vowed to treat others how we would like to be treated and as we grow, every new employee that we hired, needed to also have the same mentality.  The core of who we are truly is integrity.  We hoped that even with the lack of huge profit margins by charging  just time and material to our customers and by just doing the right thing, by being fair and honest, was not only going to allow us to grow, but someday bring Modern Plumbing and Heating to greatness!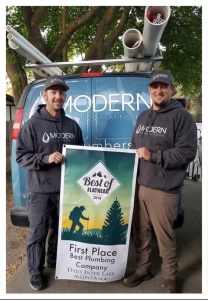 With that all said, we would have never imagined in our wildest dreams what 2018 was going to bring us!  We started the year by winning the Best of Flathead 2018, which was extremely exciting, but also quite shocking because we had only been in business for 2 years and didn't realized we had made such an impact on the people of the Flathead Valley in such short period of time!  Our goal of course were to just keep the momentum going, day by day, one customer at a time.  Our demand was becoming high, but because we were looking for our next plumber to not only have skills, but also heart and the challenge was real. This led us to hiring our first technician in 2018! 
When we thought 2018 could not get any better, we had one more final surprise.  We were awarded the 2018 Better Business Bureau Torch Award of Ethics!  What?!  We had never heard of this award until we were asked to fill out a questionnaire.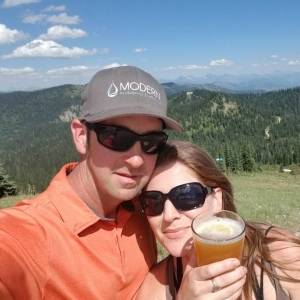 Come to find out, BBB selects one business out the state of Montana each year.  We were selected to be a finalist with 6 other Montana businesses and they told us that selecting Modern Plumbing and Heating to be the 2018 winner was an unanimous decision.
We feel honored, blessed and very thankful for all the love and support that the Flathead Valley has given us since we started our business in 2016.  Our motto is, "Serviced Once, Customer for Life" and every day that we are out there serving the people of the Flathead Valley our goal is to gain another loyal customer, one customer at a time, as a Modern Plumbing and Heating customer for life!  Cheers again to 2018 and thank you Flathead Valley, we could not have done any of it without you! The growth to greatness one customer at a time continues in 2019!